The market has been on a tear, sure. But did you know that cannabis stocks are leading the way?
Here's a chart showing how marijuana stocks have outperformed the S&P 500 since the recent bottom in March …
You can see that pot stocks have more than DOUBLED the return in the broad market. Nice!
I'm using the AdvisorShares Pure Cannabis ETF (NYSE: YOLO, Rated D) here rather than the big enchilada of the cannabis ETFs, the ETFMG Alternative Harvest ETF (NYSE: MJ, Rated D), for a good reason, the same reason I wrote about in May. MJ is stuffed with Canadian cannabis companies, and most of those are walking disasters. YOLO is more balanced toward U.S. multi-state operators (MSOs), and that's where the action is.
Why? I'll show you why, in three charts. Three unavoidable facts that spell out massive profits for select cannabis companies.
Fact No. 1: Cannabis Is ALREADY Bigger Than the NBA
A chart from Marijuana Business Daily shows that marijuana is fast passing other bellwether, legitimate businesses in revenue.
Legal cannabis brought in revenues of between $10.6 billion and $13 billion last year. That puts it behind craft beer and prescription pain meds, but ahead of the NBA, toothpaste and more.
That was last year. What about the future?
Fact No. 2: Future So Bright, I Gotta Wear Shades
According to the just-released Marijuana Business Factbook, the American marijuana businesses could pump up to $130 billion on an annual basis into the U.S. economy by 2024.
That's a 181% increase from 2019!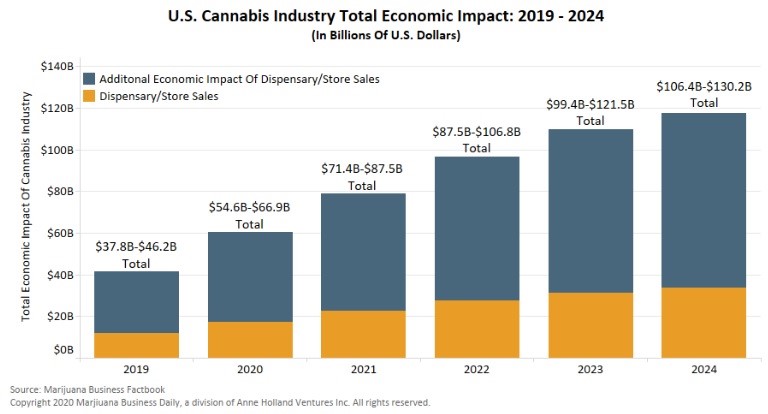 Source: Marijuana Business Factbook
How are we going to see this breakneck growth? Well, there are bunch of states where marijuana isn't legal yet.
Financial analysis firm Cantor Fitzgerald just released a report on Wednesday. It forecasts that Arizona, New Jersey, New York, Pennsylvania and Connecticut will legalize recreational cannabis sales in the next two years.
And there's the multiplier effect. Analysts estimate that for every $1 consumers and patients spend on medical and recreational marijuana, an additional $2.50 of economic value is injected into the economy.
Part of this is taxes. Cannabis businesses are already paying hundreds of millions of dollars in state and local taxes.
And then there's jobs. Let's look at that separately.
Fact No. 3: Jobs Are Booming
Over the past four years, the legal cannabis industry has doubled in size. It's been the fastest growing industry for the past four years. And it's just getting started.
Look at this projection of job growth in America's fastest growing industries. Look at the legal cannabis column on the right.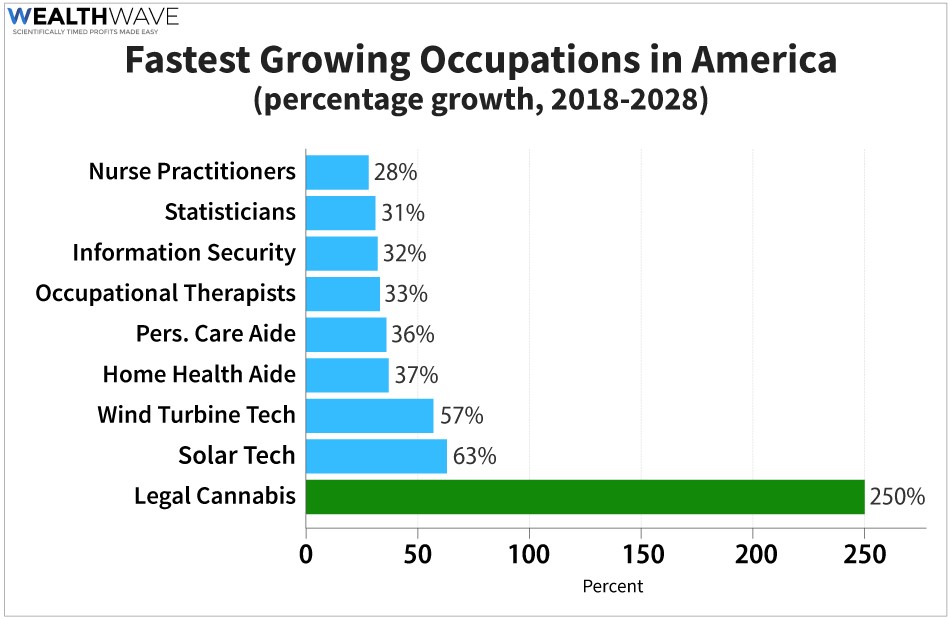 Data source: Bureau of Labor Statistics/Leafly
That's right. Legal cannabis workers are projected to grow by 250% between 2018 and 2028. The next fastest growing segment, solar installers, is at 63% growth.
The bottom line is that things look very good for select companies leveraged to cannabis.
That's what we're doing in Marijuana Millionaire Portfolio. Heck, we recently banked 46.9% on a small CBD stock I guarantee you never heard of. Sure, not every trade works out. But we have an ace in the hole — the Weiss Cannabis Stock Rankings. That's a million-dollar black box that helps us separate winners from losers.
My Marijuana Millionaire Portfolio subscribers just added a new pick on Friday. There's more where that came from. If you're doing this on your own, be very careful. There are lots of dogs out there.
But if you're willing to roll up your sleeves, and do the work, you can ride this megatrend in marijuana to riches. Those charts I just showed you point to the future. A very profitable future in cannabis.
All the best,
Sean