Bitcoin's massive recent price action has drawn a lot of media attention. The asset is often dubbed "digital gold." But recently, the world's first and largest cryptocurrency is leaving gold and most other assets in the dust.
Bitcoin can even function as a hedge against inflation. Why? Because it can never exceed its strictly limited supply of 21 million coins. Strictly limited supply means Bitcoin can't be devalued by a government printing press. What's more, Bitcoin is also seen as a hedge against political instability and social disruption.
Investors know Bitcoin can trade with volatile swings and often cite major corrections like the one we saw in 2018, but is this run different?
Yes!
The difference between then and now is that retail investor frenzy is not the culprit for this sustained rally.
While the last major retail-driven bull cycle of 2017 led to a harsh crypto winter in 2018, the recent blast-off ignited by a rush of institutional investment shows the asset class is here to stay.
Massive payment processors are investing in the space and providing crypto services. At the same time, asset managers are beginning to offer Bitcoin to their clients.
Square Inc. (NYSE: SQ) invested 5% of its assets in Bitcoin. PayPal Holdings Inc. (Nasdaq: PYPL) is allowing its 375 million customers to buy, hold and sell cryptocurrencies.
Both Goldman Sachs Group Inc. (NYSE: GS) and Morgan Stanley (NYSE: MS) are planning on offering Bitcoin and crypto investments to their high-net-worth private wealth management clients.
Volatility will always be a part of the crypto market, but it looks like the embrace from large corporations and asset managers signals the market is much more established.
Take a look at this chart showing Bitcoin's performance last year compared to the S&P 500 and gold in 2020.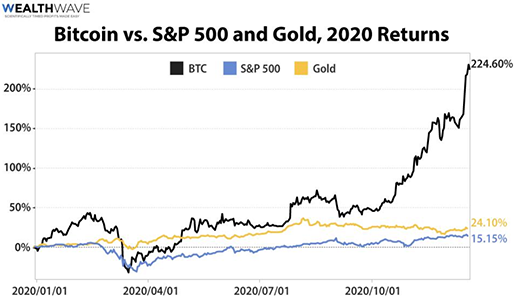 Source: Coindesk, St. Louis Fed, and Yahoo Finance
That's a heck of a blast-off, right? Well, hang onto your booster rockets because that was last year. Bitcoin is up another 119% this year — so far!
Here are three different ways you can take advantage of rising institutional crypto adoption in your portfolio …
Pick 1. Coinbase's Direct Listing Starting April 14
Coinbase is the largest crypto exchange in the United States, and it's anticipated to be one of the largest technology offerings ever, with an expected valuation of over $100 billion.
The company makes money through transaction fees on cryptocurrency purchases and is beginning to offer lending for users providing their Bitcoin as collateral.
Coinbase's financials are strong, with a 2020 net income of $322 million from $1.2 billion in revenues.
Coinbase has exploded this year from higher trading volume, with a first-quarter net income of up to $800 million. It already surpassed last year's total revenue in their first quarter this year by 50% with $1.8 billion!
Coinbase's financial performance is tied to the overall crypto market and Bitcoin, so it is a reasonable way to gain exposure without buying Bitcoin directly.
Pick 2. Grayscale Bitcoin Trust (OTCQX: GBTC)
Grayscale's publicly traded Bitcoin Trust offers shares for its Bitcoin holdings at a rate of 0.00009448 Bitcoin per share, translating to a hypothetical $1 share price per every $9,448 of Bitcoin's total value.
By investing in Grayscale's trust, you will not be able to retain custody of assets you claim, but it does currently offer the opportunity to buy Bitcoin at a discount to its current market price on exchanges!
As of the market close on April 13, the trust's market price per share was $54.93, while the physical Bitcoin holdings per share equaled $58.54.
This means you could buy Bitcoin through this trust at a discount of 6.6% off its net asset value.
While it may not be the right option if you're looking to physically hold your coins, the opportunity to buy at a discount is appealing to certain investors.
This investment vehicle charges a 2% annual fee, and it manages over $40.5 billion in assets.
Pick 3. Tesla Inc. (Nasdaq: TSLA)
While Tesla is traditionally an electric vehicle manufacturer that also offers energy generation and storage, the company made a massive $1.5-billion investment into Bitcoin in August.
Tesla has made an unrealized $1 billion off of its investment thus far, with its current market value hovering around $2.5 billion.
Tesla has also started allowing customers to pay using Bitcoin and opted to retain it on their balance sheet instead of immediately liquidating it, reinforcing their belief in its long-term viability.
More companies will look to make similar Bitcoin balance sheet investments, but adding Tesla could provide Bitcoin coverage from one of the earliest corporate adopters.
Each of these three investments can be effective ways to add exposure to Bitcoin, which can be a solid inflation hedge and alternative asset for diversification.
All the best,
Sean