Gold had a tough week, ending near two-month lows. Now, the babbling class on Wall Street is rushing to put the gold rally in its coffin.
Don't believe it!
Gold ALWAYS zigzags. And there are fundamental forces in play that point to much higher prices. That means you should be using a pullback like this to add metal and select miners.
The recent pullback in gold is due (mainly) to a long-overdue rally in the U.S. dollar, which is putting in a pretty good dead-cat bounce.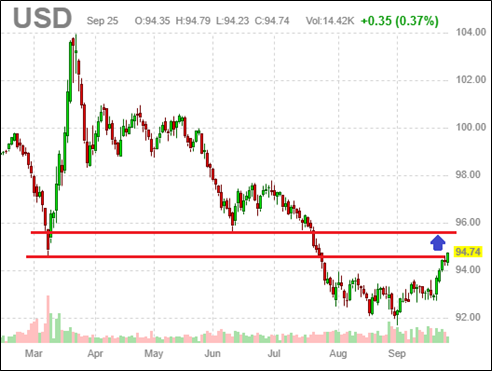 Source: Finviz
You can see that the U.S. Dollar Index has pushed up through one level of overhead resistance. Stronger resistance is right overhead.
Since gold is priced in dollars, as the dollar goes up, gold (generally) goes down. But when the greenback tops out again, gold will likely go higher.
And since this recent pullback is shaking out the weak hands, the next move could be quite big.
While we are watching gold, it is the action in miners that is our main interest. Here's a chart of that …
Gold miners, as tracked by the VanEck Vectors Gold Miners ETF (NYSE: GDX, Rated B-), have stopped moving higher. It's not unusual for miners to move sideways or consolidate for a while; now we're waiting to see where the GDX finds support.
If this sell-off lasts for a few more days, that might be long enough for the 200-day moving average to rise to the first line of Fibonacci support and make a great platform for a bounce. If gold falls faster, lower support comes into play.
When that happens, we'll buy more great stocks on the cheap. Because a big rally is coming.
A friend of mine in the financial business, one of the best stock analysts I've ever met, called it "holding a dance contest on the edge of a volcano." It's like you're in this crazy dance contest. The prize is $10 million. The hard part is it's being held over a pit of boiling lava. Many people will quit. In fact, you're counting on them to quit. Meanwhile, you keep dancing, because every step brings you closer to the prize.
Why am I so sure a big rally is coming? Because the underlying fundamentals haven't changed at all.
I've laid those forces out in previous articles. They include the Fed keeping rates ultra-low, a worsening supply/demand squeeze, high-speed government money printing, negative real interest rates, the war cycle, big Wall Street money and more!
Looking at recent news, on the demand side, consumers are finally spending again, though only on the high end, so far. I think that will light a fire under long-suppressed gold sales in that country.
And we know gold is seen as a "safe harbor" in times of trouble. Geopolitical tensions are heating up around the world. Right here at home, civil unrest is breaking out in the streets.
Meanwhile, investors are growing increasingly pessimistic about additional economic stimulus from Washington. But that's not stopping the Fed. They're still creating debt at a depressingly fast rate. Let's look at some charts.
First, here's a chart showing U.S. Federal debt in proportion to GDP …
You can see that next year the federal debt is going to be bigger than GDP for the first time since World War II. In fact, it's heading for a new record.
And the outlook is even worse! In its new long-term budget estimate, the Congressional Budget Office (CBO) projects that in just 30 years, the national debt will rise to nearly DOUBLE America's total economic output, from less than 80% last year.
Next, when you look at total debt — including federal, state, household and business debt — we're already hitting levels even worse than during the Great Depression.
So, how does the U.S. dollar retain its value when the electronic printing presses are running at warp speed?
Answer: It doesn't; at least not in the longer term.
Sure, we'll see dead cat bounces along the way. Like now. But the big picture is that the dollar's swoon is coming, and gold is going much higher. For now, we just have to keep dancing.
So, to sum it up:
In the short term, the dollar is going higher, and gold is going lower. This should end soon.
A lot of weak hands are getting shaken out right now. We'll use that to our advantage.
When the correction does end, we'll buy more gold and silver miners at cheaper prices.
In fact, depending on your time frame, you can already start buying gold miners now. Do you own the major gold and silver miner funds? If not, a pullback like this is a great time to buy them. I'm talking about …
VanEck Vectors Gold Miners ETF. I mentioned this fund earlier. It holds a basket of the best big miners.
VanEck Vectors Junior Gold Miners ETF (NYSE: GDXJ, Rated B–). This holds a basket of the best junior gold and silver miners.
Global X Silver Miners ETF (NYSE: SIL, Rated C+). This holds a basket of the best silver-leveraged miners.
You can also drill down and buy individual miners. That's what we're doing in Gold & Silver Trader.
In fact, earlier this week I released an urgent precious metals briefing with even more names. It'll be taken down soon, so watch it here while you can.
I'll also be giving a presentation on excellent, undervalued gold and silver miners, developers and explorers at the New Orleans Investment Conference, Oct. 14 through 17. The cool thing about this year's conference is it's virtual — so you can attend without leaving the comfort of your home.
If gold and silver miners interest you — and in this market, they heckin' should — you should register to virtually attend the conference today.
All the best,
Sean