When I was a kid, I watched a show called "UFO", which originally ran from 1969-1970. It was your typical sci-fi salad about heroic Earthmen battling nasty invaders. It made quite an impression on young me.
One interesting thing was that all the women at the moon base wore purple wigs. No explanation. They just did.
The real reason was the show's costume designer, Sylvia Anderson, had a fascination with wigs.
Anyway, that show got (at least) three things wrong about space:
There are no aliens trying to kill us. The unforgiving environment of space will be happy to do that all on its own.
There are no purple wigs in space. (Though wouldn't it be awesome if the crew of the International Space Station just started wearing them? Again, with no explanation whatsoever. And when people asked, they'd reply: "What wigs?")
We didn't all move to the moon after the first lunar landing. In fact, it took us a LOT longer to get back in space than anyone thought when the show was made in 1969-70. But now, America and humanity as a whole are taking strides to not only go back to the moon, but to Mars.
And wouldn't you know it? There are some down-to-Earth investments that are reaching for the stars.
On May 30, SpaceX became the first private company to send astronauts into space … coming after a nine-year hiatus following the end of NASA's Space Shuttle program.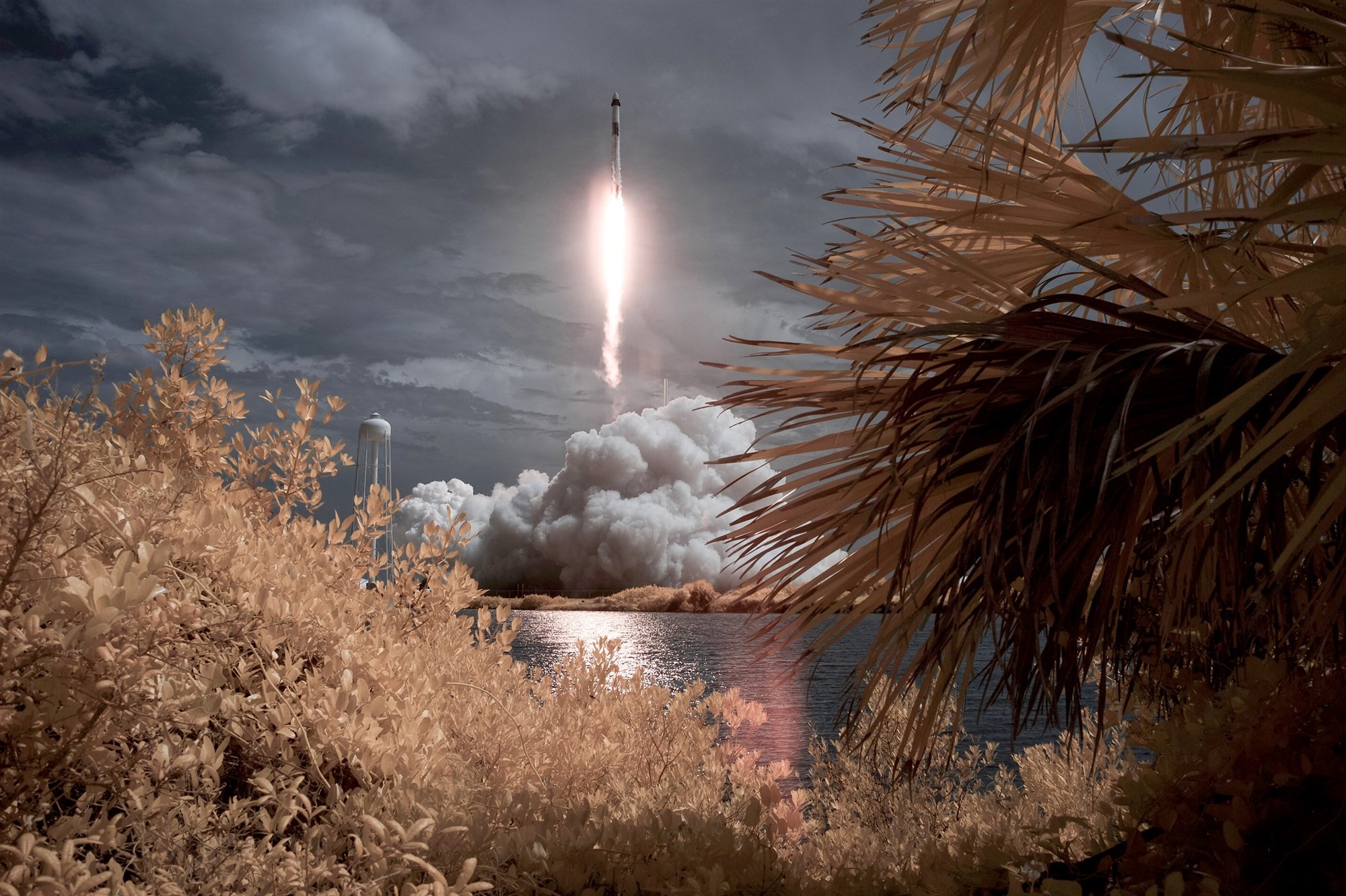 Source: NBC News
SpaceX is also working on building The Starship for deep-space missions and space tourism. And alongside The Boeing Company (NYSE: BA, Rated "D"), Elon Musk's company is making the Crew Dragon capsule for service to the international space station.
Wish you could invest? Sorry, but it's one of many space-age companies that aren't yet public.
Nevertheless, SpaceX's achievements highlight the promise of space stocks that ARE traded on public exchanges …
… companies that NASA is partnering with to return astronauts to the moon by 2024 … and then on to Mars.
And then it's the warp drive!
Well, maybe not that last part. But the space industry is gearing up again.
Here are a few companies to keep on your watchlist …
Final Frontier Stock No. 1
This is an oldie (but a goodie). Established in 1915, Aerojet Rocketdyne (NYSE: AJRD, Rated "C+") — the company formerly known as GenCorp — is still America's leading maker of rocket engines.
In fact, it powered both the Apollo Saturn V and the Space Shuttle. And it will use those same engines to drive NASA's new Space Launch System super rocket.
Plus, it powers United Launch Alliance's Delta IV and Atlas V, America's Minuteman fleet and the Navy's Trident II's.
Aerojet is also a financial powerhouse, with $141 million in net earnings last year and nearly $220 million in free cash flow. And it has a debtless balance sheet to boot.
Final Frontier Stock No. 2
Satellite communications company Iridium (Nasdaq: IRDM, Rated "D+") is pegged for a 14% growth rate over the next five years — and there are two reasons for this.
First, Iridium faces little competition in its chosen "L-Band" spectrum for transmitting satellite phone signals. (New competitors in satellite communication, such as SpaceX's Starlink and Amazon.com's (NYSE: AMZN, Rated "C+") Kuiper, have to lease wavelengths in the shorter K-Band spectrum.)
Second, while SpaceX and Amazon are still building out their constellations, Iridium has already completed its assemblage of 75 "NEXT" satellites in orbit. The company shouldn't need to add to its constellation for up to 30 years, allowing Iridium to generate strong free cash flow without spending a lot for new capital.
Although seemingly pricey at 28 times trailing free cash flow, Iridium's FCF is set to grow significantly in the coming years … meaning it has the potential to turn into a value stock.
Final Frontier Stock No. 3
Last October, billionaire Richard Branson's Virgin Galactic (NYSE: SPCE, Rated "D") became the first publicly traded commercial space tourism company.
Earnings aren't expected anytime soon as passenger flights have yet to begin. But Branson is hopeful that flights will commence within a year … and profitability by 2021.
Virgin Galactic's SpaceShipTwo suborbital spaceplanes are proven capable of reaching space and it has already signed up 600 customers willing to pay the $250,000 ticket price. And another 9,200 potential customers have registered interest in flying with Virgin Galactic.
In fact, Branson himself hoped to fly aboard the first commercial flight for his 70th birthday in July. But the coronavirus pandemic delayed that timeline.
And Branson believes the same technology can be used to fly commercial passengers "up there" at hypersonic speeds. To that end, he just entered into a Space Act Agreement with NASA to develop a high-mach vehicle.
Plus, sister company Virgin Orbit is working to launch small satellites via its LauncherOne rocket.
Bonus Pick: Yes, There Is Actually a Space ETF …
Procure Space ETF (Nasdaq: UFO, Rated "C-") launched in April 2019 and includes holdings in space stocks like Iridium, Boeing, Maxar Technologies (NYSE: MAXR. Rated "D+") and Airbus SE (OTC: EADSY, Unrated).
Here's a chart …
You can see that while UFO fell hard with the broad market in March, it is recovering quickly.
"Although you might not be able to invest in some of the large companies (like SpaceX), many companies in our ETF have contracts and relations with those companies," says Andrew Chanin, co-Founder and CEO of ProcureAM. "Could be that a rising tide lifts all boats."
He also notes that nascent tech — like cryptocurrencies, blockchain, 5G and cloud computing — are all reliant on space and satellite technology.
I just wish the UFO fund mandated that its employees wear purple wigs. But that aside, UFO is a great way to invest in a broad basket of space-bound stocks.
The future is here. And you can invest in it.
All the best,
Sean