I was in San Francisco over the weekend, speaking at the MoneyShow. And while I was there, the ETFMG Alternative Harvest ETF (NYSE: MJ) — a basket of leading marijuana stocks — did this …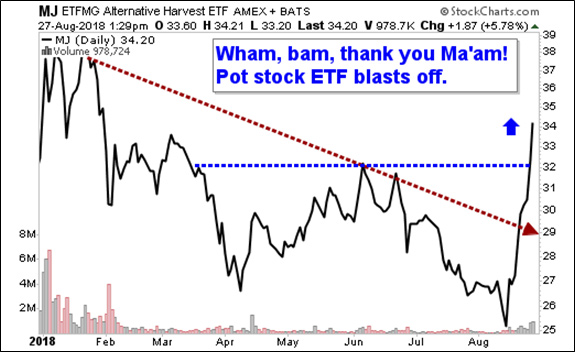 Image credit: StockCharts
Holy cow!
Well, I'm not going to sit around on my thumbs while someone is launching rockets …
The person I really wanted to talk to about this was Gene Simmons. You know, the bass player from the rock group Kiss. He's now the Chief Evangelist Officer for a Canadian cannabis company, Invictus (OTCQX: IVITF).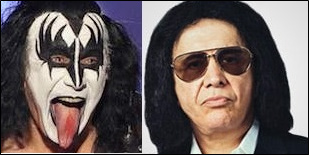 Image credits: Wikipedia and Invictus
So, he's gone from looking on the left to what he looks like on the right.
I don't know. I think Mr. Simmons looked happier when he was on stage in crazy clown makeup, slammin' the chords to "Rock and Roll All Night." Now he looks like he sucks lemons for a living.
Anyway, Mr. Simmons is supposed to be a very smart businessman. So he would have been great to talk to. But my visit to San Francisco was more of a parachute drop — in on Friday, out on a red-eye flight on Saturday. So, I wasn't at the conference at the right time.
However, I did the next best thing. I walked down the street to the nearest cannabis dispensary.
See, since California legalized pot on a state level, these shops are everywhere. Here are the ones around my hotel …
Grass Roots Dispensary … ReLeaf Herbal Cooperative … Flowers to the People Cannabis Retail Store … I tell ya, some of this word play is very clever.
I decided to go to the Barbary Coast Dispensary. It has a good rep.
And it was packed! There were lines wrapped around inside the place all the way to the door.
Now, I'm not enough of a jerk to snap photos of random people in a shop that sells substances illegal on a federal level. I don't want to get anyone in trouble with the feds or at work. But I could take photos of some products.
You're looking at a peanut-butter-flavored cookie and grapefruit-flavored soda, both of which contain 10 miligrams of THC. That's tetrahydrocannabinol, the substance in pot that makes you high.
My "budtender," as he's called, said these were two popular sellers. He said he prefers dried marijuana bud himself. But the market for "edibles," as they're called, is soaring.
And why not? After all, that drink may cost $10 a bottle. But you don't have to worry about a hangover, do you?
Sure, it's not exactly a diet drink. Each bottle contains 25 grams of sugar. Still, it's nutritionally better than Coca-Cola. Your Coke contains 39 grams of sugar.
Hey, do you think that the makers of beverages might be interested in expanding into the cannabis market?
Hold that thought! I'll circle back.
Anyway, despite some fun conversation, it was obvious I wasn't going to get any pertinent market information from my budtender, and I was just wasting his time and that of a long line of motivated marijuana buyers behind me. So, I went back to my hotel room and hopped onto the intertubes for more research.
It seems to me that there are converging forces driving this market higher …
1. Canada's legalization of recreational marijuana is fast approaching. Recreational pot will be legal across Canada on Oct. 17. So, our investments should be Canadian if we can help it.

2. The market is booming. In Canada alone, cannabis sales hit $5.7 billion in 2017. That's 10% in the legal medical market and 90% in black-market sales. Many analysts are using between $4 billion and $9 billion as a sales target for the first year post-legalization. Just in Canada!

3. Beverage-makers are moving into the cannabis space. In October of last year, Constellation Brands (NYSE:STZ), the makers of Corona and Modelo brand beers, purchased a 9.9% stake in Canopy Growth (NYSE:CGC).
In fact, Constellation Brands will invest another $5 billion in Canopy Growth, increasing its stake to about 38%. Constellation Brands will also receive additional warrants for $4.5 billion which, if exercised, make it majority shareholder.
Why is Constellation making this big move? Because these companies deal in recreational consumables, and marijuana is a consumable.
It's not the only one making this kind of move. Molson Coors (NYSE: TAP) is forming a joint venture with Hydropothecary (OTC Pink: HYYDF) to develop cannabis-infused drinks.
Many experts think Diageo (NYSE: DEO) or AmBev (NYSE:ABEV) will be the next to buy a stake in a cannabis company.
It seems like the Canadians have a head start on the good ol' USA on this. But, despite the best efforts of some in Washington — led by U.S. Attorney General and part-time ventriloquist's mannequin Jeff Sessions — legalization rolls ahead, state by state.
California shows it works. In the first quarter alone, the state collected $60.9 million in tax revenue on cannabis. Wow!
And now, I get to tell you how we can beat those sneaky Canadians at their own game …
America's Cannabis Opportunity
Interestingly, after Canada legalizes on Oct. 17, something WON'T be legal. I'm talking cannabis edibles and marijuana-infused drinkables.
Yeah! That same stuff you can buy over the counter in California.
See, for the sake of simplicity, the Canadian parliament passed legalization legislation that only addresses dried cannabis and oils. Legalization of edibles and drinks will have to wait until next year, or when they get around to it.
Meanwhile, the U.S. has PLENTY of cannabis edibles. I'm talking cookies, brownies, K-Cup-type dispensers for your coffeemaker, bottles and more.
You can see what happens if the U.S. speeds up legalization? In Canadian terms, we'd have the puck, and on our home ice!
I don't know if we could speed up legalization. I do know that AG Sessions is about as popular with his boss right now as a "surprise" salad inside a McDonald's wrapper.
Some say Jeff Sessions could be on the way out the door. What do you think will happen to U.S. pot stocks if/when he gets the heave-ho?
I'd say it could be blast-off time.
In the meantime, we can just A) buy Canadian pot stocks and B) position ourselves for when the United States finally gets on the right side of the war on weed.
All the best,
Sean