I'm putting together my presentation for the upcoming Orlando MoneyShow, and one chart really jumps out at me. I believe this map shows WHY state-by-state legalization across the U.S. is going to accelerate, even if Federal legalization stalls.
If you read my cannabis articles, you probably know what I'm talking about. The biggest force driving marijuana legalization, by far, is the boom in tax revenues.
You can clearly see what I'm talking about in this map I found at MJBiz.com:
Indeed, states with legal adult-use marijuana sales have raised $7.9 billion in tax revenue since 2014. Last year, they reaped a $2.7 billion tax windfall. And that was up 42% from 2019!
Not to mention … this was during the pandemic!
And boy, do the states need that money. As the pandemic raged last year, people stopped going out and spending money on a lot of things, and tax revenues at everything from retailers to restaurants fell through the floor.
Many still haven't recovered. Result: Tax revenue shortfalls across the country are projected to hit a whopping $350 billion this year.
Against that, $2.7 billion may seem like a drop in the bucket. But boy, is it accelerating. For example, Illinois total cannabis sales reached $150.6 million in May, up 97% from a year ago!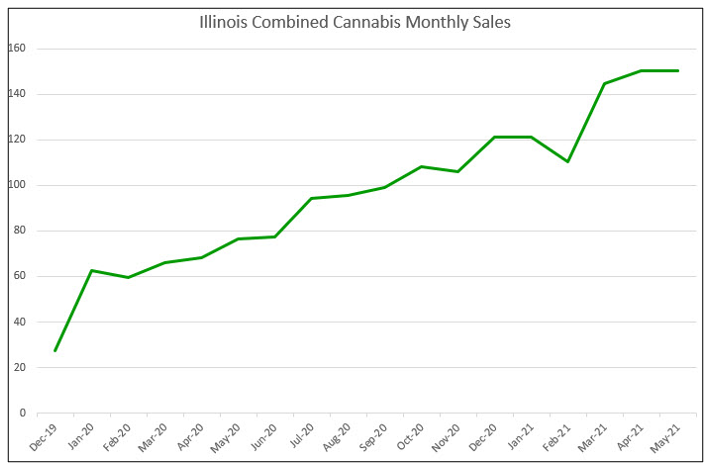 Source: New Cannabis Ventures
Exactly how much tax revenue this will raise is a bit tough to figure.
Illinois puts a 10% tax on products containing less than 35% THC (the psychoactive substance in cannabis), a 20% tax on cannabis-infused edible products and a 25% tax on products with more than 35% THC. But let's go with 20% for our back-of-the-envelope calculation. That's a cool $30 million in tax revenue!
Meanwhile, California raised more than a billion dollars in cannabis taxes last year alone. This year should be even higher.
What's more, many states just recently legalized. It takes years to get a cannabis market fully operational. So, the tax revenue in states is likely to grow.
The Domino Effect
Recently, we saw New York State rush through adult-use legalization. Why? Because neighboring New Jersey passed adult-use legalization in the 2020 election. Suddenly, New York lawmakers realized the amount of potential revenue that would be lost as New Yorkers made a short commute to buy cannabis legally in the Garden State.
Gov. Andrew Cuomo pushed through the legalization bill by pointing out estimates that New York could reap $350 million in tax revenue from legal pot, along with 30,000 to 60,000 jobs. So, can you blame him for legalization?
The federal government may drag their heels, but the states won't wait. They need that tax revenue, and they need it now.
And that means this is a great time to invest in U.S. multistate operators (MSOs), as well as other companies leveraged to cannabis. That's especially true when considering that many of those companies are well off their February highs. I'd say they're dirt cheap.
I know this is familiar ground … but I'll give you this one for free: You can do a lot worse than buying the AdvisorShares Pure Cannabis ETF (NYSE: YOLO). Here's a performance chart measuring YOLO against the S&P 500 since the lows of last March …
The S&P 500 has made an 87.58% move higher. Nice … nice until you realize that YOLO is up 244.4% during that same time frame. And that's even with a big correction off its February highs.
Nothing moves in a straight line, but I think there's a strong possibility that YOLO could blast off again. You'll want to be on board.
Remember to do your own due diligence before buying anything.
I'll have more ideas about pot-powered profits at the Orlando MoneyShow on June 12. I hope to see you there.
Best,
Sean