A week from now, I'll be presenting at the Orlando MoneyShow about my favorite marijuana stocks. Why marijuana? It's simple: That's where the money is.
And yet, for a bunch of reasons, cannabis stocks were — until recently — beaten flat with a gardening shovel. They're starting to pick themselves up now. But they have huge gaps in valuation to make up. And I think 2021 could be a glorious year for select pot stocks. If you're in the right part of the market, your profits will grow like weeds.
Let me give you a sneak peek of parts of my MoneyShow presentation to explain why … and why you should strongly consider investing in weed stocks, too.
1. Profits Are Booming
First-quarter results are in, and the better U.S. multistate operators (MSOs) are reporting red-hot revenue growth. Many reported double-digit revenue growth, even from just the fourth quarter of last year. Here's a chart from MJBiz.com that sums it up …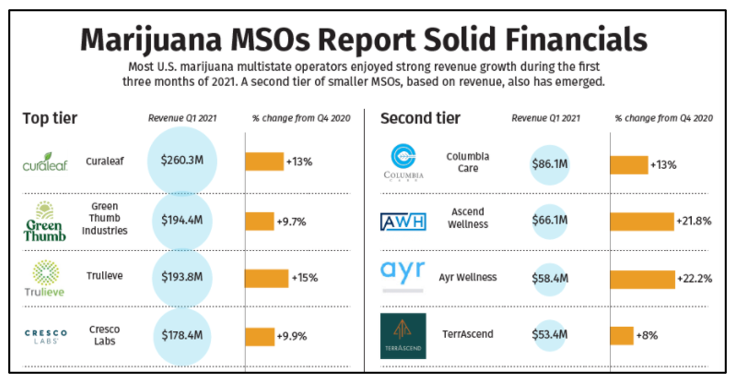 Source: MJBiz.com
The year-over-year growth in revenues was even better:
Trulieve Cannabis Corp. (OTCQX: TCNNF)'s sales jumped 101.7% year over year.
Cresco Labs Inc. (OTCQX: CRLBF)'s revenues jumped 168.8% year over year.
Curaleaf Holdings (OTCQX: CURLF) saw revenues jump 169.8%.
Columbia Care Inc. (OTCQX: CCHWF)'s sales soared 227%!
These are the kind of revenues that many tech companies would kill for.
And earnings? The better ones are making money, too, or soon will be.
2. The Pandemic Actually HELPED Cannabis Sales
Remember way back when in March of last year when the coronavirus pandemic spread around the world, businesses closed their doors and it seemed like the economy was grinding to a halt? I'm still waiting for that to be funny in retrospect.
Anyway, a funny thing happened. Most states ruled cannabis as "medically necessary" because many people use it for medical reasons. So, cannabis companies kept their doors open. And sales soared!
In fact, 2020 saw record legal marijuana sales of $17.5 billion, up 46% year over year. That's according to data from cannabis market research firm BDSA.
The fact is, many people were sitting around stuck in their homes, bored. It was a different kind of Netflix, Inc. (Nasdaq: NFLX) and chill. Marijuana dispensaries saw increased average order size and, thus, increased revenue, even as people shopped less frequently.
Looking ahead, BDSA predicts that the legal cannabis market will hit $56 billion by 2026.
That's a compound annual growth rate of 26.19%! Does that seem like a lot? And while that may seem high, other analysts on Wall Street are predicting much higher! Numbers as high as $80 billion are bandied about.
And that means the share prices of the pot stocks I mentioned early are dirt cheap.
3. The Tide of History
Federal cannabis legalization is stuck in the mud for a bunch of reasons, but legalization campaigns are winning one state at a time. In the U.S., 17 states have legalized medical marijuana, and 34 have approved it for medical usage.
Some more facts:
Support for legal marijuana is overwhelming. A whopping 91% of U.S. adults say that marijuana should be legal for either medical or recreational use. Breaking that down, 61% say it should be legal for recreational use, and 31% say it should be legal for medical use only. Just 8% say marijuana should not be legal for use by adults. That's according to the latest from Pew Research. Basically, marijuana is just as popular as ice cream.
States have collected nearly $8 billion in tax revenue since recreational sales launched in 2014. That's from a new report from the Marijuana Policy Project (MPP). If there's one thing politicians like, it's tax money!
Even Amazon.com, Inc. (Nasdaq: AMZN) has thrown its weight behind federal legalization. Dave Clark, Amazon's SVP for Worldwide Operations, said the company supports the Marijuana Opportunity Reinvestment and Expungement Act, reintroduced in the House late last month. The MORE Act would decriminalize cannabis at the federal level. Amazon also pledged to no longer screen some of its workers for pot.
How You Can Consider Playing This
There are a BUNCH of cannabis exchange-traded funds (ETFs) — the ETFMG Alternative Harvest ETF (NYSE: MJ) is the biggest, but there are others. They include:
AdvisorShares Pure Cannabis ETF (NYSE: YOLO)
Cambria Cannabis (NYSE: TOKE)
Amplify Seymour Cannabis ETF (NYSE: CNBS)
The Cannabis ETF (NYSE: THCX)
Global X Cannabis ETF (POTX)
All those funds have positives and negatives … but the one I believe has the most potential is the AdvisorShares Pure US Cannabis ETF (NYSE: MSOS).
The reason I like this ETF is because it owns solely American cannabis companies. Other ETFs, particularly MJ, are more focused on Canadian marijuana ETFs. Canadian cannabis stocks consistently underperform; U.S. cannabis companies generally outperform. Until that dynamic changes, I want to focus on U.S. cannabis.
And MSOS holds U.S. multistate operators, top U.S. cannabis real estate investment trusts (REITs), CBD companies, pharmaceutical companies and hydroponic suppliers — 31 companies in all.
MSOS only made its debut at the end of August last year. Here's how it has performed against the S&P 500 since then …
You can see MSOS took off like a rocket but has lost steam since mid-February. That's due to factors including Wall Street worrying about how marijuana purchases will fare once people can finally leave the house, plus good ol' fashioned profit-taking.
Now, though, we're hearing that cannabis sales continue strong. And MSOS has probably bottomed. The next leg higher is around the corner. You'll want to be on board when it blasts off.
This is only ONE of the ideas I'm bringing to the Orlando MoneyShow a week from now. I sure hope you can join me for the rest of my hottest picks. I'll see you there.
All the best,
Sean