As the stock market goes higher and higher, the average investor is ignoring gold.
That's why now is a good time to stock up on the yellow metal.
Because gold is cheap … and gold miners are even cheaper.
Mark my words … when the K-Wave begins to crash on Wall Street, investors will stampede into gold like Oklahoma Sooners.
No wonder a handful of savvy Wall Street insiders have been quietly buying gold on the side.
The investment bank The Goldman Sachs Group (NYSE: GS) recently created its first exchange-traded fund (ETF) for gold for their exclusive clientele.
This trend doesn't stop there: Other ETFs have been stocking up on gold in a way they've seldom done before.
Last year, they added a whopping 624,327 troy ounces of gold to their holdings.
Even Warren Buffett — who used to hate gold — bought 21 million shares of Barrick Gold Corp. (NYSE: GOLD) for $563 million in 2020.
And don't forget about silver!
Even though I expect gold to skyrocket when the K-Wave comes to Wall Street, I believe silver will do even better!
The great thing about silver is that it will give you growth during the crest … and protection after the crash.
Because silver is not only a precious metal that holds its value in hard times … it's also an industrial metal that's in more demand now than ever before.
Silver plays a key role in at least three key megatrends that will help drive the market higher over the next few years:
•  Solar power

•  Electric vehicles (EVs)

•  And 5G cellular
When you buy silver, in other words, you're buying a trifecta ticket on three of the biggest growth industries in the U.S. economy.
No wonder investment in physical silver hit a five-year high in 2020 with 236.8 million ounces, as the demand in America climbed by 62%.
Meanwhile, the supply of silver has been falling.
Another factor is core inflation, which is calculated using the Consumer Price Index (CPI). Core inflation is the change in the costs of goods and services but excludes the volatile food and energy sectors. It recently hit 3.8%, its highest in 30 years!
The Fed is looking increasingly WRONG in its view that the inflation numbers we've been seeing are "transitory."
That means investors would do well to seek shelter from inflation-protecting assets … like silver.
And just look how cheap silver is relative to the S&P 500 …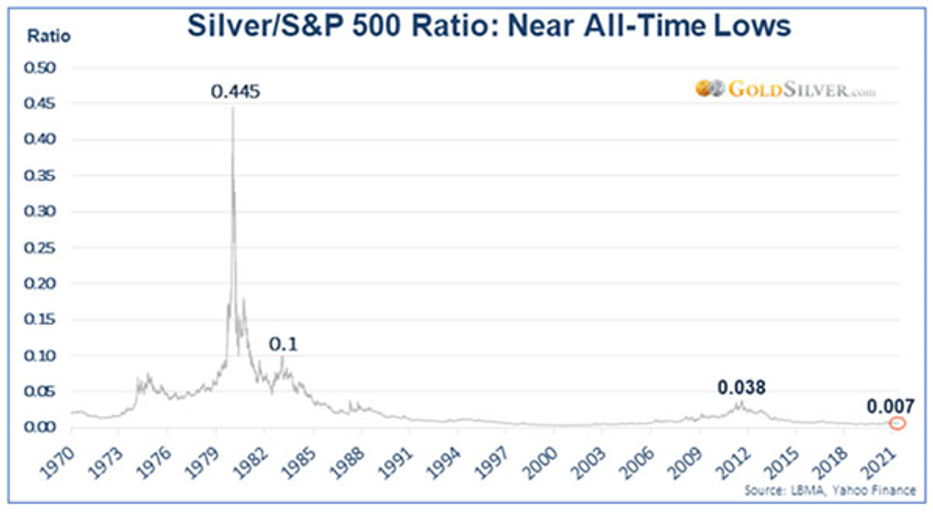 Source: goldsilver.com
Silver would have to rise by a factor of 63 … just to match its 1980 peak. This alone suggests explosive upside potential as the stock market matures (and likely corrects).
What's more, the Silver Institute expects physical demand to climb by 26% after a very strong 2020 … with overall demand, from all sectors, to be up by 15%, nearly doubling supply growth of 8%.
One source of demand is flexible electronics.
The Silver Institute estimates demand for silver in printed and flexible electronics at around 48 million ounces annually … and forecasts that demand will rise to about 74 million ounces in 2030, slurping up 615 million ounces of silver in this decade alone.
Consider that wearable electronics like smartwatches, appliances, medical devices — and a host of internet-connected devices — are already exploding in use … not to mention sensors.
And as I mentioned a few weeks back, gold and silver's SEASONAL outlook is extremely BULLISH right now.
But don't just hold your silver in physical coins … silver bullion ETFs … or your grandmother's knives and forks.
In my view, a basket of silver stocks is a great approach. And one of my favorites is the ETFMG Prime Junior Silver Miners ETF (NYSE: SILJ). With over $1 billion in assets — and an average daily volume of over 1.5 million shares — SILJ offers plenty of liquidity to enter and exit as you please.
Better yet, in my new report — BOOM, BUBBLE, BUST!  — I name one of my favorite silver miners (and a great gold miner, too) that I expect will soon take off like one of those bottle rockets on the Fourth of July.
But it's available to Wealth Megatrends subscribers only.
I recommend you take full advantage of a silver rush, the likes of which we haven't seen since the Comstock Lode.
All the best,
Sean