As a student of history, I have a wild story for you today. It's about historical pandemic — and it has lessons for the COVID-19 pandemic that the U.S. and many other areas of world are dealing with now.
It's been shown, repeatedly, that quarantine is doing a great job in slowing the spread of the virus. To be sure, COVID-19 has NOT been licked. But we're slowly seeing early-hit states start to peak in terms of new cases being reported.
Nonetheless, more and more governors are pushing to open up their respective states.
In fact, South Carolina already declared itself open for business, albeit with strict social distancing enforced. Georgia and Oklahoma also let many businesses reopen yesterday. Tennessee is doing a multi-stage reopening starting April 27th. Texas, Mississippi and Florida are all moving toward or exploring opening and more states are on the way.
So, I've been doing research on the 1918 flu and one thing really caught my attention. Have you heard about the "Anti-Mask League?"
The Anti-Mask League
Starting in September 1918, San Francisco suffered from the Spanish Flu pandemic. Initially, most people wore masks as required —at around 80% compliance. The rules were strictly enforced. The mayor himself was fined by his own police chief after going to a show without a mask, while shows were still allowed. Eventually, they stopped those, too.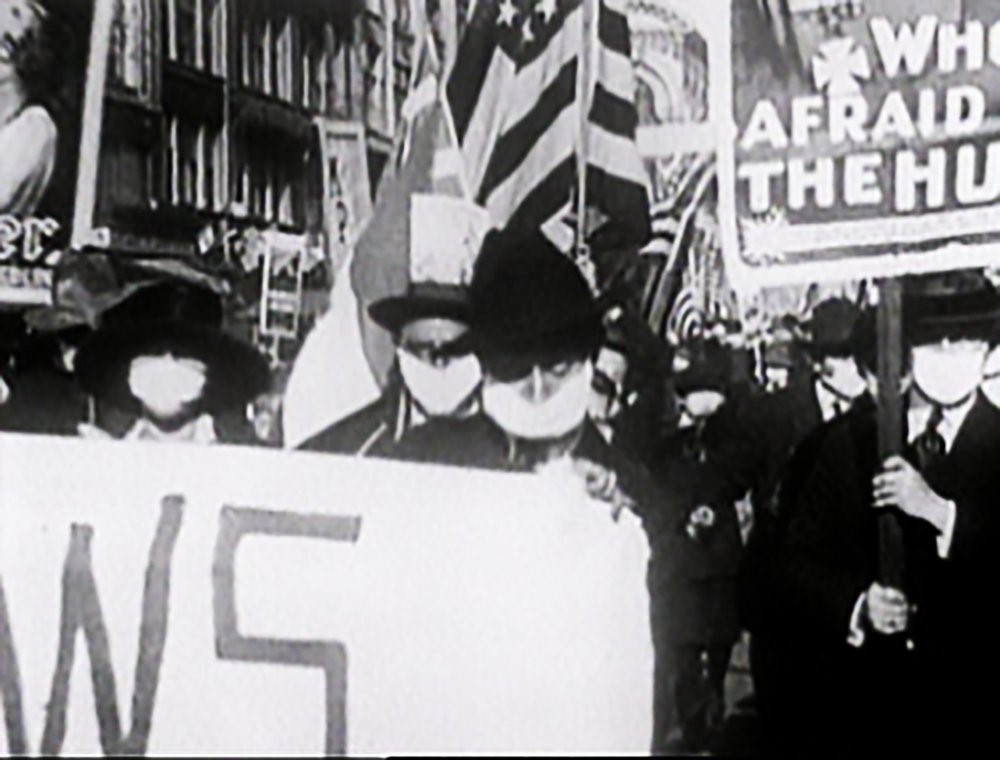 San Francisco citizens wear masks during a parade. Source: San Francisco Library
By November of the same year, cases were down. Public health officials recommended re-opening the city. After having been stuck at home for months, residents rushed to shops, bars, shows and other entertainment venues.
But December 1918 saw a second wave of the killer flu. San Francisco's Health Officer, Dr. William C. Hassler, urged people to wear masks again. This time, it was voluntarily. Left to their own devices, 90% of the citizens of San Francisco refused to cover their faces. Businesses, concerned about Christmas sales, came out against masks. So did the powerful Culinary Workers Union.
Can you blame them? San Francisco residents were fed up. This was the second wave of the pandemic, and they had already spent the months between September and November being hassled, fined and even arrested for not having a mask on. Civil libertarians made a constitutional challenge by arguing that if health officials could force them to wear masks, they could force any indignity.
'A Good Deal of Hell'
The San Francisco Chronicle came out against mandatory masks. Was the death rate high enough to justify putting on masks again? Wasn't this just the return of normal seasonal colds? How much of this was due to hype?
On Dec. 16, things came to a head as hundreds of citizens congregated to debate a masking order. That turned into a brouhaha, with tensions running high.
Around the same time, someone sent an improvised explosive device to Dr. Hassler. It was three pounds of gunpowder, buckshot and broken glass wired to an alarm clock with an igniter. It was signed, "Compliments of John."
Historian Alfred Crosby writes: "John was, no doubt, quite mad, but he was also a portent that San Franciscans were going to raise a good deal of hell about wrapping up in gauze again."
Dr. Hassler refused to back down. He told the nay-sayers that there was evidence that masks helped! He implored the public to look to the data! "Wear masks! They help!"
'The Dollar Sign Above the Health Sign'
But public opinion won. On Dec 19, officials voted down a mandatory mask order. "The dollar sign is exalted above the health sign," sighed Dr. Hassler.
By far the worst day of flu deaths followed on Dec 30.
Organized labor came around. A representative said, "It is of no time to quibble over the worth of the mask. It is the best thing we have found to date, and if you have anything better, for God's sake, give it to us."
By Jan. 10, 1919, 600 new cases per day were being reported. That same day, local officials voted to approve a new mandatory mask order.
Again, citizens were fined or even arrested for not wearing masks. But this time, disobedience was widespread.
In fact, the protest movement was just getting started. Over 2,000 people attended an event formed by San Franciscans who called themselves "The Anti-Mask League." They marched against the mandatory mask rules.
Crosby writes that the gathering was of "public spirited citizens, skeptical physicians and fanatics."
You know, like …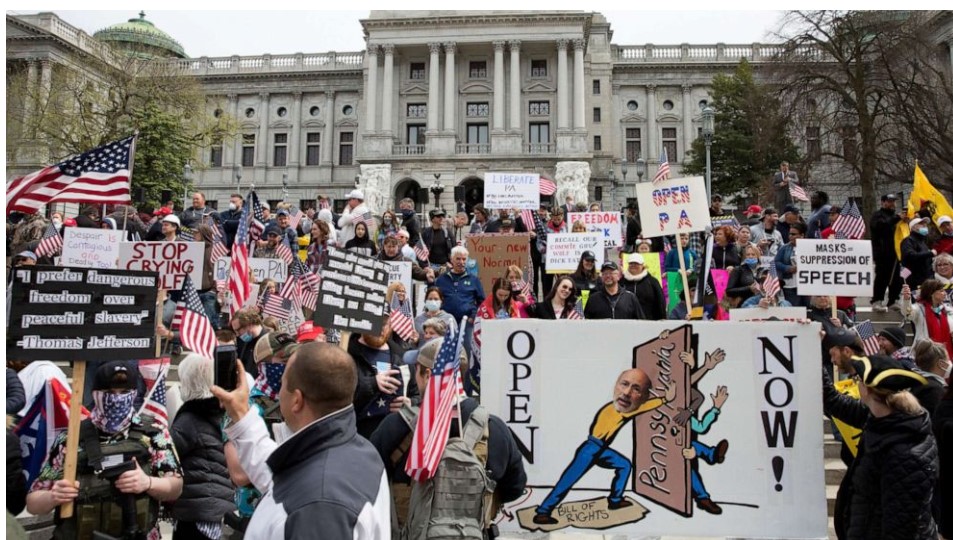 Protestors demonstrate against say-at-home orders in Pennsylvania. Source: ABC News
Science Prevails
But science prevailed (that time, anyway). On Jan. 17, 1919, the number of new cases and deaths declined. It was the first decline in quite some time.
This continued until the epidemic finally faded in San Francisco, a signal that the mask ordinance helped wipe out the Spanish Flu. Even still, people continued to gripe about the mask rules.
In the end, San Francisco was one of the hardest hit U.S. cities. They had a total of 50,000 cases with 3,500 fatalities, according to Crosby.
So, what does this mean for us today? I know people, especially small business owners and lower-income workers, are hurting due to rules that have forced self-isolation. I don't know what the "correct" solution is. But maybe, just maybe, we should listen to the scientists.
The alternative is that this pandemic drags on a lot longer than many on Wall Street and Main Street are prepared for. If science doesn't prevail, it's likely our war against the virus is going to turn into a low-intensity insurgency, with flare-ups becoming common.
It's important to look to the past to prepare and predict the future as best as possible. That's exactly what we try to do with out investment strategies as well.
Stay safe, my friends. We'll get through this together.
All the best,
Sean