The bears are having their way with gold now. The yellow metal is having a very bad day, week … heck, it's had a bad last couple of months. So what's a gold bull to do?
I say watch for signs of a bottom. Because this is where bottoms are formed.
I mean, the signs are clear …
Sign #1: ETF Investors Run for the Exits
The price of gold has been in a slump since April. At the end of June, investors in physical gold ETFs — who are usually longer-term holders — began speed-walking for the exits …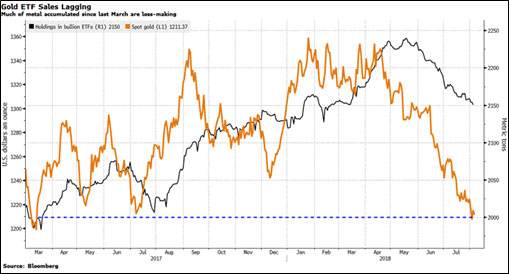 Image credit: Bloomberg
Holdings in the world's physical gold ETFs dropped from about 2,240 metric tons to 2,150 metric tons recently. That's about 2.9 million troy ounces of gold dumped into the market in about two months. It's also enough to classify gold ETFs as one of the world's most-prolific producing gold miners!
All this gold hitting the market weighs on price. But you know what? ETF investors often sell at exactly the wrong time. That's probably what we're seeing here.
Sign #2: Speculators Are 'All-in' on Lower Gold Prices
Speculators have raised their net short bets on gold to the highest level since at least 2006 …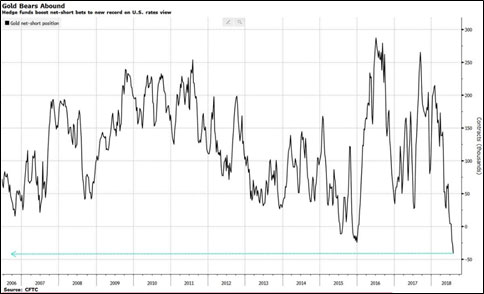 Image credit: Bloomberg
This chart reflects the difference between the total number of bullish (long) and bearish (short) contracts on July 31. That difference is now nearly 48,000 contracts to the downside. That's up from 36,422 the week before.
It doesn't take much to spark a short-covering rally in these positions. And this heavily overweight short position is fuel for a massive rally.
Why might that happen? Well, maybe a test of a level that technical traders find significant …
Sign #3: Long-term Support
Gold has pulled back so much, it's trading near lows it hasn't seen in over a year.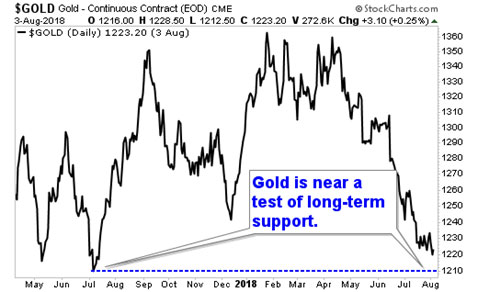 Image credit: StockCharts.com
I've been telling my Supercycle Investor subscribers that long-term support at $1,204 might come into play. I would prefer to have been wrong on that. But once technical traders see that level in sight, they're more likely to beat gold down to test that level.
Such a test could very well give shorts reason to cover. And that would be a nice platform for the next rally.
Sign #4: Fed Rate Hikes are Nearly Priced in
One of the major forces weighing on gold is the Federal Reserve's interest rate hikes. Anticipation of those hikes boosts the U.S. dollar and pushes gold lower.
Most market analysts say the Fed will hike twice more this year. The Fed doesn't like to disappoint. On the other hand, the Fed doesn't like to surprise, either.
That means the two hikes are mostly priced in. About the only thing that could surprise the market now is if the Fed decided not to hike. Now, that might send gold on a rocket ride.
Sign #5: Book 'em, Danno!
There are now 16 major gold miners and explorers priced below book value. That's BELOW dirt cheap! Another 11 are dirt-cheap, priced at less than 1.5 times book value.
Sure, some of these are turkeys. But many are not. Many are golden eagles flying under the radar.
That's the kind of thing you see at bottoms, not at tops.
Countdown to the Next Rally
Gold, like many metals, is cyclical. It is oversold and primed for a bounce. Gold stocks are on sale right now like their CEOs are on fire and falling down the nearest shaft.
And look at that list of dirt-cheap stocks. If you don't own any now, how cheap do you want them to get before you start buying?
Because let me tell you, thanks to all those shorts, this next bounce could turn into a short-covering rally that's a real face-ripper.
And that's when the list of stocks you wanted to buy becomes a list of stocks you wish you'd bought.
Be ready for the rally when it comes. The profit potential could be enormous.
All the best,
Sean