I've had my eye on mining metals for a while, and it looks like there's an especially great opportunity to jump in now.
With the economy getting back into full stride and the U.S. looking to boost its industrial output to create jobs and spur growth, we should see demand for raw materials shoot higher.
While mining metals pulled back after peaking a couple of months ago, it looks like they could be getting ready for a major move!
There're many factors that should help investors profit from higher prices.
Here are my top three:
Reason 1: Biden's Infrastructure Package
The government's stimulus efforts since March 2020 have pushed commodity prices higher along with inflation, and President Biden's proposed infrastructure package should have the same effect.
While "social infrastructure" initiatives and raising taxes will be fought against by Biden's republican opposition, conventional infrastructure improvements — like improving roads, fixing bridges and modernizing buildings — is a bipartisan focus.
The traditional infrastructure package is expected to come in at $1.2 trillion, and its passage should kick our production into high gear.
Reason 2: Rising Industrial Demand
The economy is returning to normal after the pandemic nearly stopped it in its tracks, and we should continue to see the demand for commodities increase as production ramps up.
Soaring industrial demand should raise prices, and we could see fireworks as supply tightens. There's also a heightened focus on improving renewable energy technologies in hopes of fighting against climate change.
We're already seeing the beginning stages of a shift to fully electric vehicles (EVs) as automakers prioritize new models. Nickel, lithium and cobalt are prime examples of metals needed for critical renewable technologies, and companies and governments will ensure that capacity needs can meet their surging demand.
Reason 3: Supply Chain Disruptions
Supply chains are interrupted, and it's affecting production and pricing. Producers are struggling to meet rising demand, and disruptions are having a major impact on available inventory.
When resources and raw materials are scarce, that is when we see the largest impact. As demand continues to increase, the problems will intensify.
The White House's report from June about pandemic-related supply chain disruptions shows that manufacturing and construction businesses are the hardest hit. About 60% of those industrial-centered businesses are reporting supplier delays!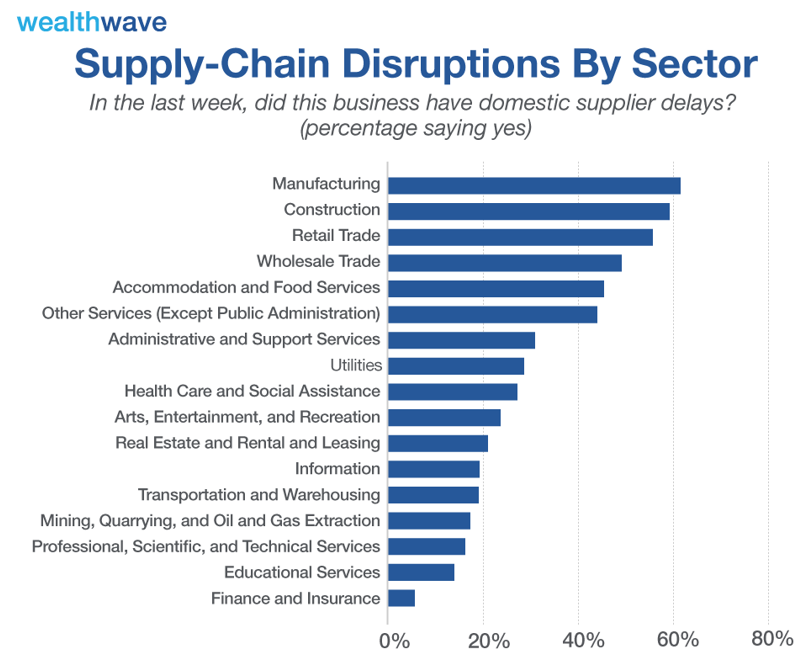 Sources: Whithouse.gov; U.S. Census Bureau; CEA Calculations
How You Can Gain Exposure
There're many ways to play soaring industrial growth. I like two exchange-traded funds (ETFs) in particular.
First, iShares MSCI Global Metals & Mining Producers ETF (BATS: PICK) holds 199 companies focusing on the production and extraction of diversified metals.
PICK excludes gold and silver stocks, as it mostly focuses on non-precious metals. Its top three holdings are BHP Group Ltd. (NYSE: BHP), Rio Tinto Group (NYSE: RIO) and Vale S.A. (NYSE: VALE), which are among the top global producers of mining metals, minerals and industrial commodities.
PICK has an expense ratio of 0.39%, and it manages roughly $1.3 billion in assets. This ETF has a 30-day average daily volume of over 327,000 shares.
Looking at its chart, we see that PICK managed to reverse its recent downtrend. Now that it's gaining momentum, we could see several positive forces begin to lead a new uptrend.
Second, SPDR S&P Metals and Mining ETF (NYSEARCA: XME) offers access to the major metals and mining players in the S&P Total Market Index (TMI).
It covers a series of subindustries, including copper, steel, diversified metals and more. Unlike PICK, it does not leave out gold and silver miners.
XME holds 30 companies in total, and it has an extremely liquid average 30-day volume of about 5 million shares. Its top three holdings are MP Materials Corp. (NYSE: MP), Alcoa Corp. (NYSE: AA), and Royal Gold, Inc. (Nasdaq: RGLD).
This ETF has an expense ratio of 0.35%, and it has nearly $2 billion in assets under management (AUM).
XME's chart shows a similar struggle during mid-June, but it appears to be regaining ground and gathering steam.
Both of these funds can help us capitalize on the surging demand for industrial metals. While the market looks choppy, take this opportunity to strongly consider pouncing on one of the most prominent megatrends.
All the best,
Sean